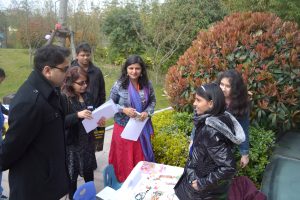 I was in the car waiting to reach the surprise my mom told me about. It was Our Own Kids Club's meet up where we kids were about to get a surprise. When we reached there, I had to wait for everyone to come so we could enter. Finally, when everyone arrived, I was told that the surprise was cupcakes, they were quite delicious!
I thought to myself, is this really the surprise my mom was talking about?
However, it wasn't the real surprise, the real surprise was a booth in the Spirit of Spring Carnival!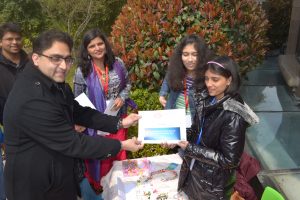 The booth was free for members, so I got straight to work and I wanted to sell DIY jewellery. Making jewellery is difficult and I needed someone to help me! So, I asked my friend Ryam to help me, and she was thrilled to join. We made our jewellery using beads, threads, keychains, etc. Ryam was making all the jewellery and I was making some samples and preparing materials for the DIY pieces.
We unpacked all our jewellery on our booth and started early, there weren't many customers, but later as more people arrived we got more customers.
The Consul General Commerce Shanghai visited us and gave us a certificate of appreciation.
I had experienced entrepreneurship as young learner. I was very happy.