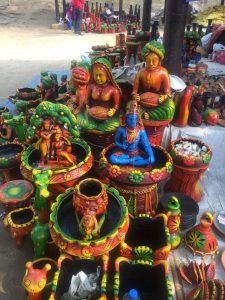 The magnificent land of India has awed and dazzled everyone visiting her. She is famous for beauty, Bollywood, food, culture & heritage, yoga and much more. It has always been a land of enchantments and varied handmade crafts.
This year I got a chance to visit the famous handicraft mela at Suraj Kund (Faridabad). It was an amazing experience to visit the Mela and see the beautiful and great work of art over there after 15 years of my stay in China.
Today, I will take you on a tour of the awesome handicraft India through my experience.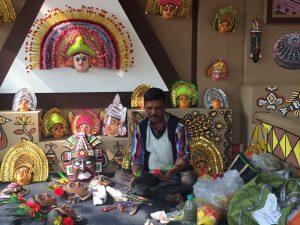 The annual 'Surajkund International Crafts Mela, (1st  to 15th February
) is a celebration of Indian folk traditions and cultural heritage. The Mela is organized by the "Surajkund Mela Authority" & "Haryana Tourism in collaboration with Union Ministries of Tourism, Textiles, Culture and External Affairs". 
At least 20 countries & all the states of India participated in the Mela. 
I was very much fascinated by the vendors and the effort behind their articles and prices. The prices were quite low in comparison to the effort, and much lower than the beauty blended within the craft items.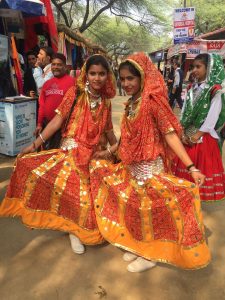 The multi-cuisine Food Court provided ethnic and delicious food from all over the world, which are immensely popular at the Mela. There are designated places for amusement, and joy rides to make it a full family fun each year for the whole day. 
A splash of colors, rhythm of drum beats and joy de-vivre, merged at Surajkund is really worth seeing and the effect can be much longer than a day in our minds and fill us with the same enthusiasm and brightness. A large number of renowned local and international artists and groups performed at the Chaupals, (the open-air theatres, located in the Mela premises). It was accompanied by continuous Tambola rounds. Visitors actively participated  in the fun filled environment, and fully enjoyed the beauty spread all over the place.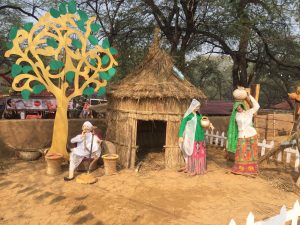 The security, management and control system was another important section fully taken care by the administrative authorities. There were female police officers also at their best to control and take care of the activities. Many states and countries' dance performances were another part of attraction. 
It was a great experience to see a blend of so many flavors and colors under one roof, The true colors of "Incredible India"