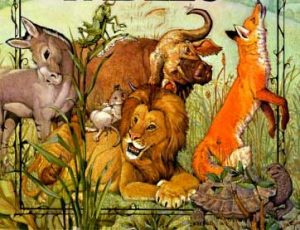 POWER OF STORIES
For young learners message delivered using a story is more persuasive than simply preaching. 
So our main purpose should be to inspire our children instead of convincing them.
If we try to make them understand, they will have a lot of unspoken questions in their minds, so the best way is to take them to a different world by using sensory elements of a story.
About this Quiz
Aesop, a Greek slave and storyteller passed on his treasure of moral-rich stories for the generations to follow. How many of his tales do you remember?
This worksheet has 10 morals of Aesop's Fables.

Fill in the names of the Fables on the blank space given below the morals.

Send the picture of completed worksheet on  shelly@bhartiyacommunity.cn  along with your name and age and be a winner
Your name will be announced in the next issue of Our Own Kids E Magazine
So, are you ready…….?
Your entries should reach us by 20th December 2018
While trying to look for the names of Fables, students will go through these fables out of curiosity. Also, they can start the journey of listening and telling stories!
Picture Courtesy: Google Images